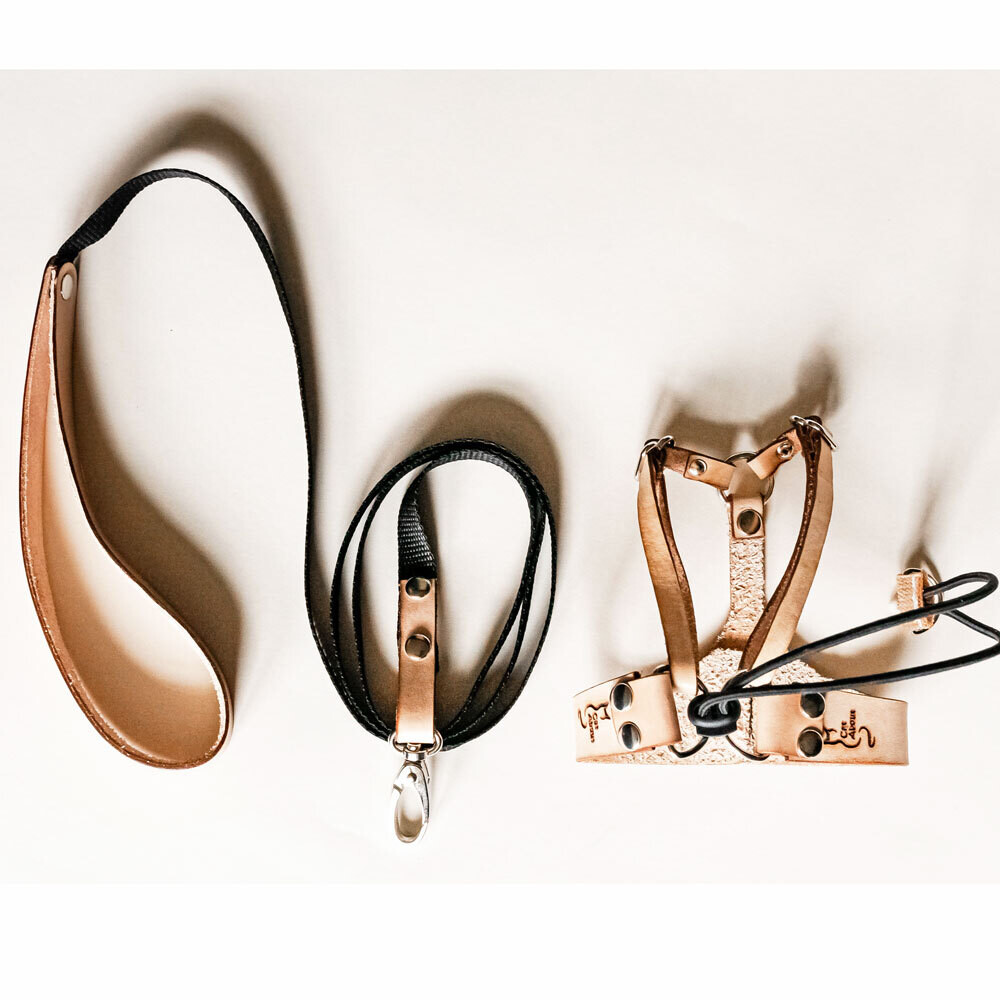 OutBound Cat Harness™ & Leash Set
SKU 00002
Sets are made from the same hide to match perfectly
Product Details
Open up the world of your cat with the safest, most comfortable, and beautiful harness and leash, custom made for fit and function.

The only harness that allows you to take your cat out and tether them (supervision is necessary – they like to get tangled). Let your cat enjoy more time outdoors while your relax, garden or socialize.
I designed the OutBound Cat Harness™ after my cats escaped from 11 different types of harnesses – I tried every style I could find.
Early in 2019 I made the first prototype that worked. That prototype has been refined as I discovered how much strength I needed to have and how to make the shape move with my cats and not restrict them.
I like to tie my cats to a lead while I enjoy my backyard, gardening, or relaxing. The OutBound Harness™ keeps them safe and secure -even though they can and do tangle themselves up and jump too far, all of the time. I don't leave them unsupervised, but I can safely get distracted, step inside for more coffee, or to answer the phone.

I tested this harness with the help of different sizes and shapes of cats to allow a complete range of motion.

The uniquely shaped leather harness hugs the body when a cat tries to escape (or bungee jumps up and over a tree branch), yet allows for freedom of movement and comfort when the cat is relaxed. Combined with an easy-to-adjust elastic closure, this escape- and choke-proof cat harness- is the ideal way to let your cat roam their outdoor territory safely and hands-free. Feel confident attaching your cat's leash to something, and enjoy watching them play!

WHAT PEOPLE SAY:

"This is by far the best harness out there! I have tried many different harnesses on many different cats and this one works the absolute best."

"Super fast shipping, AMAZING QUALITY, and cat-approved"
"It's a huge relief to see that she cannot escape this harness if she fusses while outside."
Not your typical designed-for-a-dog harness, the OutBound Cat Harness has gone through hundreds of hours of testing to ensure your cat can leap, run and play with no risk of choking or squeezing free.

Save this product for later
60 Day - Hassle Free Returns and Exchanges
1st Class Mail - 24 hour turnaround
Free & Flat Rate Shipping
Orders over $45 to US ship free - International $12.95