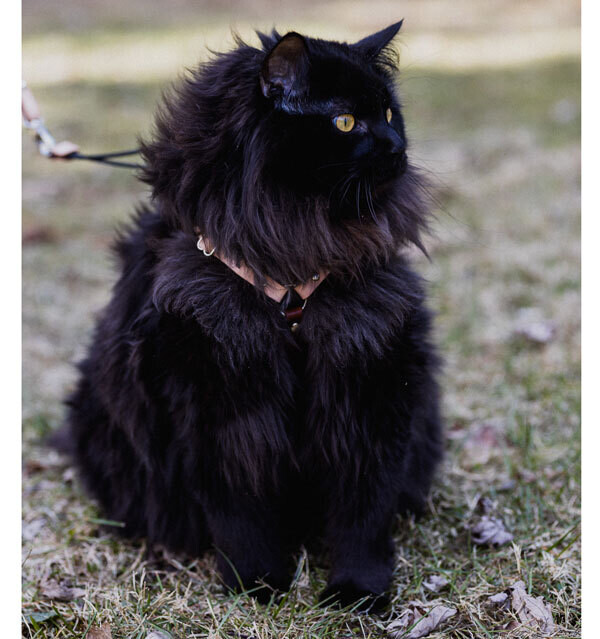 OutBound Cat Harness™ Extra Large
SKU 00001
Easy On - Prevents Back Out - Ergonomic
Product Details
Does your cat weigh 15 pounds or more? We specially modified the harness to accommodate your Bundle of Fur!" Made larger with an adjustable chest riser and burlier shock cord - this harness will fit and keep your large cat secure.
"I designed the OutBound Cat Harness™ after my cats escaped from 11 different types of harnesses!"- Jennifer Hubbard, Founder of Cat About
Cats are escape artists. Cat-ch them the right way!
Being a cat parent is not easy, it has its challenges. Cats' safety is one of them.
Quite often, harnesses are either unsafe or uncomfortable. Fret not!
Wait a meow-ment. We have got the purr-fect solution.
The OutBound Harness™ is designed to move along with your cat, while keeping it comfortable and secure.
So next time when you plan to go for a walk, take that pretty cat along. Then, confidently tie the leash to something and enjoy watching it play!
Sounds like a plan, right?
What more? The harness is handmade from top-quality leather and it keeps getting better and softer after each use.
The easy-to-adjust elastic closure gives Control to your hands and Freedom of motion to your cat!
Each element of the leash is scientifically designed, after numerous prototypes, for the love of cats.
A few features of the OutBound Cat Harness™ include:
Premium-quality vegetable-tanned leather
Escape proof mechanism
Elegant and beautiful design
100% choke-proof
Durable and timeless
Made to fit every cat size
You will be surprised to know,
Each harness is custom made to fit every cat purr-sonality
The love for cats is fur-ever and Cat About does its best to accommodate each request in the most beautiful way possible.
Here is what the customers say:
"This is by far the best harness out there! I have tried many different harnesses on many different cats and this one works the absolute best."
"Super-fast shipping, AMAZING QUALITY, and cat-approved"
"It's a huge relief to see that she cannot escape this harness if she fusses while outside."
Order now and feel the difference.
Save this product for later